Highlights
1. What we are doing for employees
Our top concern is ensuring the health and safety of our employees. We made over 150 process updates—from enhanced cleaning and social distancing measures to new efforts like disinfectant spraying.
We distributed personal protective gear, such as masks for our employees, and implemented disinfectant spraying and temperature checks across our operations worldwide.
We're working on building scalable testing for coronavirus.
We've filled 100,000 new jobs since March, and we are adding 75,000 more to help meet customer demand and assist existing employees fulfilling orders for essential products.
We increased pay for hourly employees by $2 per hour in the U.S., C$2 per hour in Canada, and €2 per hour in many EU countries.
We doubled the regular hourly base pay for every overtime hour worked and are offering extra time off with full pay for those diagnosed with COVID-19.
We established a $25 million relief fund for partners (e.g. delivery drivers) and seasonal associates facing financial hardship or quarantine.
Amazon publishes annual letter to shareholders from Jeff Bezos, founder and CEO. Read the letter here.
2. What we are doing for customers
We are increasing capacity for grocery delivery from Amazon Fresh and Whole Foods Market as quickly as possible.
We enhanced cleaning at all Whole Foods Market stores and now open one hour early for customers who are 60+ years old in the U.S. (70+ years old in the UK).
Customers ordering delivery from Prime Now, Amazon Fresh, and Whole Foods Market can select "unattended delivery" during checkout if they prefer not to come into contact with others.
We're focusing on high-priority items to ensure the fastest delivery of household staples, medical supplies, and other high-demand products coming into our fulfillment centers.
We're vigorously combating price gouging to help protect customers, help ensure fair pricing, and combat those seeking to profit off the COVID-19 crisis.
We're giving our customers more time to return items.
Our Amazon and Alexa devices help keep customers stay connected and informed.
3. What we are doing for communities around the globe
We launched the $20 million AWS Diagnostic Initiative to accelerate COVID-19 research.
In Europe, we committed €21 million (almost $23 million USD) to support those most affected by the COVID-19 pandemic.
Amazon CEO and Founder Jeff Bezos donated $100 million to Feeding America.
We hired 100,000 full- and part-time employees, and we are now hiring an additional 75,000. We're looking for talent in every community where we operate.
We created a $5 million grant fund to support small businesses in Seattle.
AWS is supporting the White House's COVID-19 High Performance Computing Consortium, providing computing resources to advance research on diagnosis, treatment, and vaccine studies.
We're supporting virtual classrooms with no-cost resources from AWS and Amazon Future Engineer.
We're donating 8,200 laptops to Seattle Public Schools students who do not have access to a device at home.
Through our Amazon Future Engineer program, we're donating 4,000 laptops to high school students across the U.S. and making new online computer science resources, including exam prep, free.
Daily Updates
Continue checking here for updates about how we're supporting our employees, helping customers, aiding community relief, and furthering research during the COVID-19 pandemic.
April 23
AWS powers new platform to assess social distancing trends
Built on Amazon Web Services, the Maryland Transportation Institute at the University of Maryland has built an interactive analytics platform to help public officials understand how social distancing behavior affects the spread of COVID‑19, mobility, and local economies. The platform is run entirely on AWS, and we donated AWS service credits and technical support to the project. Learn more.
Amazon Live event to benefit Feeding America
Kellogg's and Amazon Live will host "At Home Cooking," a livestreamed cook-a-thon to support Feeding America, today (Thursday) from 10 a.m. to 8 p.m. ET. Fourteen chefs—including Padma Lakshmi, Emeril Lagasse, and Rocco DiSpirito—will stream live from their kitchens, cooking meals with ingredients commonly found in the pantry and answering viewers' questions. Amazon Live and Kellogg's are donating directly to Feeding America in conjunction with the event. The stream is available to anyone in the U.S. via the Amazon Shopping App on compatible Fire TV devices, and by visiting amazon.com/live.
https://blog.aboutamazon.com/company-news/...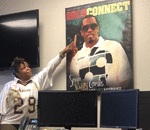 Posted By: Elynor Moss
Thursday, April 23rd 2020 at 12:12PM
You can also
click here to view all posts by this author...