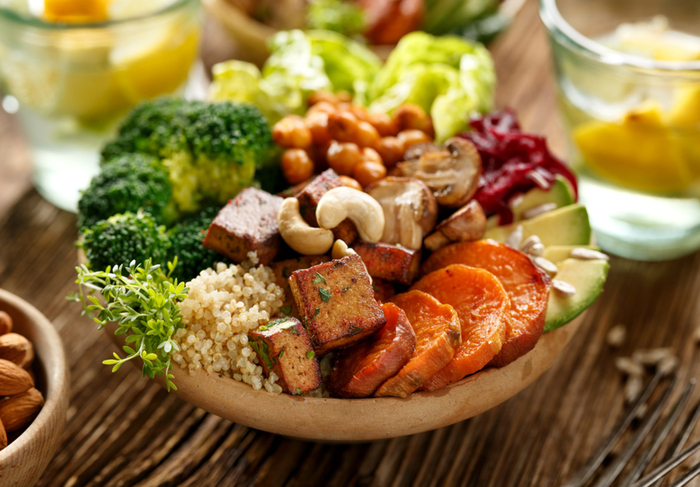 One of the most common questions I get in Q&A sessions following talks:
What if you want to go vegan or vegetarian, but your partner is not on board?
And I never have a good answer. I was very fortunate that from the minute I came home and said, "Honey, I want to try being vegetarian," she said, "Let's do it!"
Same with going vegan a few years later. So while I can give suggestions (don't be preachy, lead by example, and look for recipes that can swing both ways), they're based only on others' experiences.
My friend Jeff Sanders has such firsthand experience; he's a nearly-raw vegan and his wife is an omnivore. I asked Jeff if he'd help me answer this common question, and this post is the result.
Jeff, by the way, is the host of a fantastic podcast called the 5AM Miracle — one that I've started listening to as I've become more intentional about my mornings (even if I'm still sawing logs in my bed at that ungodly hour). I was even a guest on the podcast a few months ago; so have been other vegan runners Rich Roll and PJ Murphy.
Enter Jeff
As vegans and vegetarians, we're in the minority — and that often holds true even in our own homes.
If you eat a plant-based diet or are considering making the transition, it's likely you're flying solo — buying your own ingredients, cooking your own food, and ordering meals for one.
I want to offer a little peace of mind. Living as a plant-based athlete does not have to be painful, even if your significant other, roommates, or family are not so keen on joining you.
My First Day as a Vegetarian
My wife, Tessa, had invited a friend to come visit for the weekend, which just happened to coincide with my "Grand Vegetarian Experiment."
Fully stocked with fresh fruits and vegetables, our refrigerator was ready and so was I. I nudged Tessa and Kendall into the kitchen and we all three got our hands dirty as we added bunches of spinach leaves into the strawberry-banana mixture for our first-ever green smoothies. We took happy photos of each other holding up the green concoction and then gulped it down.
I'll be frank — it was awful.
None of us was prepared for the foul taste. My "fresh" spinach leaves were anything but. Tessa and Kendall had big, plastic smiles on their faces, but it was obvious they were masking their disgust.
In spite of this failed experiment, my passion for the plant-based lifestyle only grew. Within the next few months I completed my transition to a full-time vegan and then eventually a raw vegan. It took time, but I was committed.
My wife, however, was not on board. My failed green-smoothie initiation may have permanently left a bad taste in her mouth.
Different Strokes for Different Folks
We all eat different foods. My cousin has a gluten allergy, so her dinner plate looks different compared to her dining companions'. My dad loves steak, so he eats considerably more meat than my mom. My wife hates asparagus more than going to the dentist (and that's saying a lot), so there's not much asparagus around my house.
Transitioning to a plant-based diet — whether it be vegetarian, vegan, raw vegan, or something similar — while your partner is sticking with meat isn't easy. But with the right approach, it can be done.
If you suddenly learned you had an intolerance to a particular food, what would you do? You'd simply buy, cook, order, and eat slightly different foods. Most likely, you wouldn't ban your spouse or partner from preparing that food for his or her own consumption — after all, you are the one with the intolerance, not them.
Going plant-based when your partner will not requires a similar approach — even if the ethical implications of plant-based diet complicate things somewhat.
I didn't go vegetarian in secret. My wife knew every step of the process because we discussed it. She knew why I wanted to make this life transformation. She empathized with me and accommodated my wishes, and her willingness to go along with my transition made the entire process much smoother.
What About the Critics?
If your partner is not sympathetic — not happy about your change — or simply not willing to go along with the transition, what are your options?
Find opportunities to share your food whenever possible. There are plenty of vegan meals and side items that many people love (salad, pasta, chips and salsa, fruit, etc.). Make it a priority to include these items at meals as often as you can. Many new vegans find that their partners adapt to their new lifestyle within a couple of weeks without any problems.
It's not the end of the world if you find yourself cooking and eating separate meals. My wife and I share a small portion of food, but the bulk of our diets are quite different. It doesn't cause problems and it doesn't have to. As long as everyone is eating food they enjoy, no one has to miss out on eating together.
If you find that your partner is still hostile towards you because of your choice to eat more plants, you can always reach out to other vegans for support. A supportive community — and good news for No Meat Athlete readers, I hear there's one coming soon — can help you solve many problems that you may not be able to on your own.
Shopping for your new plant-based foods may cause the financial wizard in your house to hiccup. Produce costs more — sometimes considerably more. Though you may be willing to pay up, it's also important to be considerate so your own wishes don't put an immediate wrench in the family finances.
I recommend a slow transition. Find a few recipes that everyone in the house might like that won't break the bank. All-fruit smoothies are always a big hit, for example, and frozen fruits are considerably cheaper than fresh produce. In the beginning, try making one or two plant-based dishes to complement your partner's otherwise omnivorous meals: Make veggie burritos, big salads, or pasta dishes, and allow your spouse to add meat if that's what he or she wants. You can also try soy dishes as replacements for meat, especially if you are missing that flavor or texture during your transition to a plant-based diet. (And No Meat Athlete has a whole post about ways to make your plant-based diet cheaper.)
But don't force your own philosophies (and foods) on others, especially if they are not 100 percent sold on the idea of a plant-based diet. You can stretch them a little with a new dish here or there, but if you push too much at once, you could inadvertently lose their support of your new lifestyle.
https://www.nomeatathlete.com/on-your-own/
Posted By: Elly Moss
Tuesday, May 29th 2018 at 11:01AM
You can also
click here to view all posts by this author...